In trademark Hawking style he replied that he was going to have a Simpson's character party and the best part was that he could go as himself. Meanwhile, the Cambridge University was benefitting hugely through its association with Stephen Hawking. By 2000, they had a brand new, $177 million building with a swanky wheelchair accessible office for Stephen. He continued to use his status for the benefit of the disabled. To raise public awareness of the technology available for the disabled, he displayed his new Quantum Jazzy 1400 which was provided to him by Pride Mobility, the world leader in mobility products.
Amongst all his other activities, the professor managed to find time for his children. He enjoyed Formula One racing and music concerts with his younger son Timothy. His daughter Lucy adored his father's uncanny ability of buying her gifts of beautiful clothes which invariably fit perfectly. She added that it "means more to me that he knows what size I am, and not just what size galaxies are." Stephen had become the darling of the media and the general public. Everything that he said was eagerly lapped up by the public. He had become science's unofficial spokesman. In 2001, he told German magazine 'Focus' that humans will have to modify their DNA so as to keep up with the computers, else there was a significant chance that intelligent machines will take over the world. Another time, he said that humans must start creating space colonies so as to ensure their own survival.
Stephen had won over the public but the clan of scientists thought differently. In a poll by the Physics World magazine as to who was the top scientist of all time, most physicists rooted for Einstein who received 119 votes whereas Stephen received one. In another survey by Physics Web, Isaac Newton was ranked first while Hawking lagged behind at 16. Peter Coles, an astronomy professor at the University of Nottingham puts it interestingly as "coffee time talks in Physics departments often come up with the same topic: it's very difficult to get anybody to say anything critical of him. But to have somebody like that in an establishment that runs on peer review isn't healthy. The trouble is, people fear that they will be thought of as jealous."
The success of A Brief History of Time made many people clamour for a sequel. At that time, Stephen wanted to focus on his research and so the book remained unwritten. With the start of the 21st century, however, it dawned on him that there is room for a different kind of book that might be easier to understand. With this in mind, he started work on a new book which he called 'The Universe in a Nutshell'.
Learning from his past experience, he decided to arrange the book into independent, separate topics which could be read in any order. The book was launched in Munich, Germany in October 2001. The book became a bestseller though it was not as big a success as its predecessor. In June 2002, Stephen was awarded the Aventis Book Prize for distinction in popular science writing. The prize came as a surprise to him and he said, "my previous book did not win any prizes, despite selling millions. But I am very pleased to have had better luck this time."

On January 8, 2002, Stephen celebrated his sixtieth birthday; a remarkable feat for someone expected to die ever since he grew up. Stephen had now become the British record holder for survival. Long-term friend and colleague Robert Penrose declared that the physicist had officially become an old man and now could get away with saying such outrageous things. A massive celebration was held, which included Stephen's current and past graduate students and also his ex-wife. Jane was especially pleased to be involved and said, "because I still think that, with the exception of our children, the greatest achievement of my life was helping keep him alive." But Stephen almost couldn't attend this celebration. Just after Christmas, he had an argument with 'a wall' and 'the wall won.' While travelling on a cobbled street, he lost control of his wheelchair and crashed into a wall.
This year also saw the publication of another Stephen Hawking book, 'On the Shoulders of Giants' which contained biographies of scientific big-wigs Copernicus, Galileo and Newton along with extracts of their major works.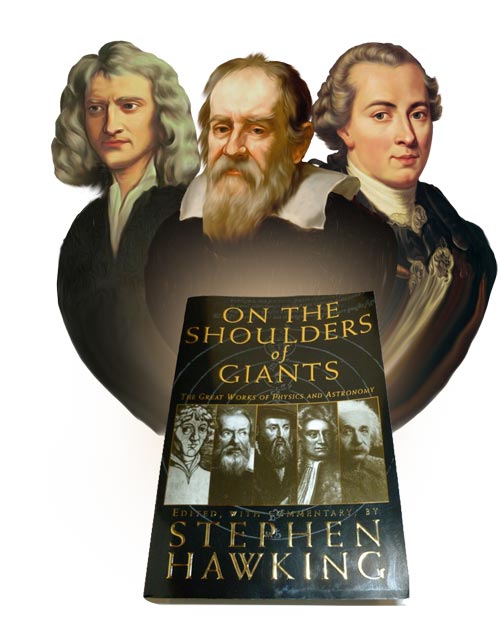 That April, Stephen told a reporter "I suggested we might find a complete unified theory by the end of the century." He laughingly added "Ok I was wrong". He revised his prediction then and said that "there's a 50-50 chance that we will find a complete unified theory in the next 20 years." However, several months later at a talk at Cambridge he said, "Maybe it is not possible to formulate the theory of the universe in a finite number of statements…Some people will be very disappointed if there is not an ultimate theory that can be formulated as a finite number of principles. I used to belong to that camp, but I have changed my mind." Once again Stephen had proved that he was not afraid to own up if he was wrong.
Meanwhile, the television appearances continued and in spring 2003, Stephen appeared in the television show 'Late Night with Conan O'Brien' along with Jim Carrey.
The public curiosity about Stephen refused to be sated and in April of 2004, BBC premiered its television drama 'Hawking'.
The movie narrated the two years in Stephen's life when he was diagnosed with ALS, met Jane and conducted his thesis on singularity theorems. Ex-wife Jane noted that the movie captured "the sense that we had that, despite it all, everything was going to be possible." As expected, the movie was much liked and received viewership of more than four million. The author in Stephen was working overtime as well and in 2005, the book 'A Briefer History of Time' was released which was jointly written by Stephen Hawking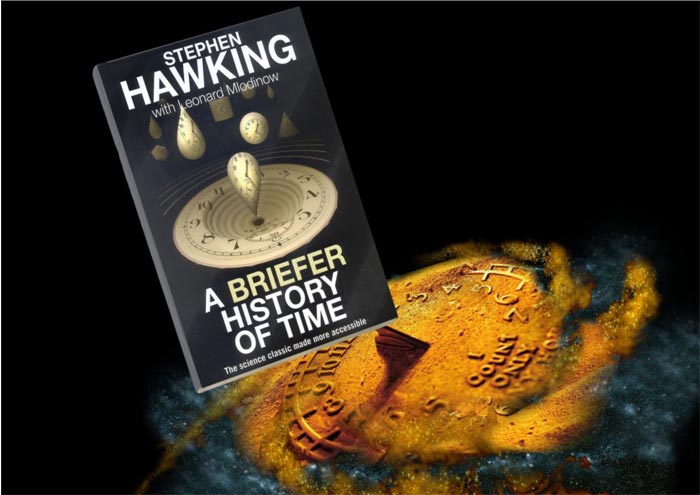 and author-physicist Leonard Mlodinow. The book provided an abridged yet clear picture of the universe to the average reader.
2006 was a year marked with a major personal disturbance. Stephen got divorced from his second wife Elaine. The 11 year marriage had always been under the public scrutiny and dogged by accusations that Elaine physically abused her wheelchair bound husband. Twice, criminal investigations had been launched by the police after Stephen received unexplained injuries which included broken bones, but on both the occasions the professor remained non-committal and the inquiries had to be dropped. Ex-wife Jane claimed that Elaine had intentionally driven a wedge between her and Stephen while many friends claimed that the nurse had 'brainwashed' her patient. The grounds for the divorce remained a mystery; Stephen chose not to comment on his divorce and the only statement from Stephen's camp was that "He is far too busy. This is just a distraction which is really annoying. We don't have time for any of this."
The unpleasantness of 2006 was soon forgotten and in 2007, the author-physicist was back with his first book for children 'George's Secret Key to the Universe' co-authored with daughter Lucy and Christophe Galfard, a former research student of his. The book which was an adventure story explained the mysteries of the universe in a way which could be understood by children. The book received favourable reviews and was followed by 'George's Cosmic Treasure Hunt' in 2009 and 'George and the Big Bang' in 2011.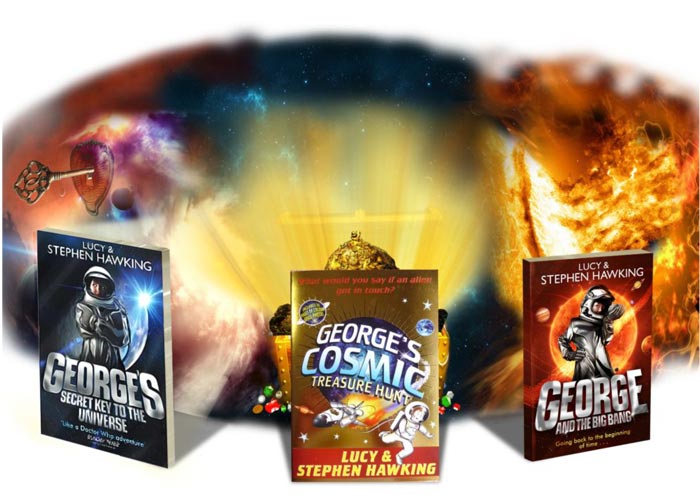 On Thursday, April 26, 2007, the intrepid physicist charted another first by becoming the first person with a disability to experience zero gravity in a flight. Before the flight he told reporters that "I have wanted to fly in space all of my life….for someone like me whose muscles don't work very well, it will be bliss to be weightless." Florida based Zero Gravity Corp which runs such flights, offered it to Stephen Hawking as a courtesy. The zero gravity flight is dubbed as the Vomit Comet by NASA astronauts because of its tendency to make one retch due to its stomach churning manoeuvres. In anticipation, Stephen was given a pre-flight motion sickness pill and was also attended by two doctors and three nurses. It was decided that the professor have a single zero gravity run but they needn't have feared; Stephen lapped up the experience and at his insistence the dives were extended to a total of eight. An apple was floated free in the aircraft along with Stephen as a tribute to Isaac Newton. Peter Diamandis, Chairman of Zero Gravity told about Stephen "he was doing gold medal gymnastics in zero-g. It was incredible…his eyebrows went up and there was a big grin…he was grinning the entire time." After the flight, Stephen said "It was amazing. The zero-g bit was wonderful….I could have gone on and on. Space, here I come."
God, ETs and a certain Mr. Hawking

In March 2008, Stephen featured in the documentary television series 'Stephen Hawking: Master of the Universe' produced by television broadcaster Channel 4.
The series consisted of two 48 minutes episodes dealing with his life and work. The series was a huge success and commanded viewership of more than 1.5 million viewers. In September 2010, Stephen returned to the public eye with the release of yet another of his controversial offerings, this time, the book 'The Grand Design'. Co-authored by Stephen and Leonard Mlodinow,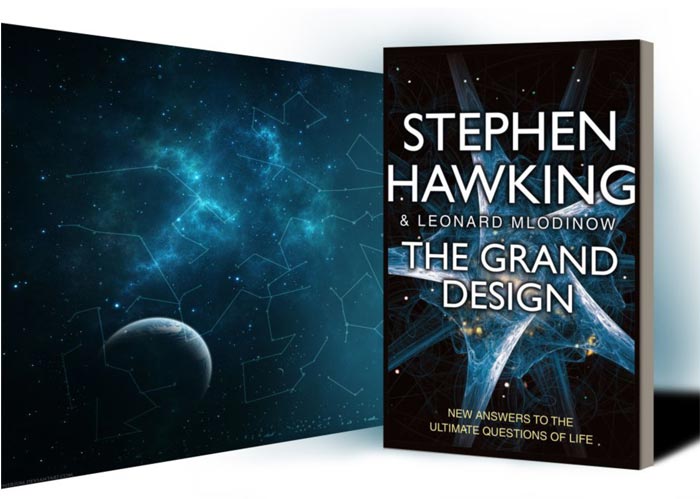 the book delved on the controversial topic of the existence of God. As per the book, it was not necessary to resort to the concept of God to explain the origins of the universe; Big Bang was a direct derivation of the laws of Physics. In response to criticism of the book, Stephen countered, "One can't prove that God doesn't exist, but science makes God unnecessary." The authors added, "Because there is a law such as gravity, the universe can and will create itself from nothing. Spontaneous creation is the reason there is something rather than nothing, why the universe exists, why we exist. It is not necessary to invoke God to light the blue touch paper and set the universe going." Despite the criticisms, the book was a success.
A self-confessed atheist and never afraid of speaking his mind, Stephen likens human brain to a computer. In an interview in May 2011, he stated "I regard the brain as a computer which will stop working when its components fail. There is no heaven or afterlife for broken down computers; that is a fairy story for people afraid of the dark." In October, the flamboyant professor was on TV once again, this time in a science documentary series titled 'Brave New World with Stephen Hawking.'
The series focused on scientific breakthroughs which had the potential to transform our world. It also touched on the theme of space exploration as the only hope of survival for human beings in the future. Before the series' premiere Stephen warned, "We are entering an increasingly dangerous period of our history…But our genetic code still carries the selfish and aggressive instincts that were our survival advantage in the past. It will be difficult enough to avoid disaster in the next hundred years, let alone the next thousand or million. Our only chance of long-term survival is not to remain lurking on planet Earth, but to spread out into space." On the same subject he added, that if there is intelligent life out in the universe, maybe we have been overlooked by it. "If we should pick up signals from alien civilizations" he cautions "we should be wary of answering back, until we have evolved more.' He believes that meeting a more advanced society at this stage "might be like the original inhabitants of America meeting Columbus. I don't think they were better off for it."
On January 8, 2012, the poster boy for I.M.Possible celebrated his 70th birthday. A public symposium was held at Cambridge University on the occasion but unfortunately Stephen couldn't attend it due to ill health. A recorded speech of the physicist was played at the event instead which was attended by the world's leading cosmologists. In his speech, the professor talked about his childhood and the highlights of his career. He finished the speech to a standing ovation from the audience
with the words "Our picture of the universe has changed a great deal in the past 40 years and I'm happy if I've made a small contribution. The fact that we humans – who are ourselves mere collections of fundamental particles of nature – have been able to come this close to an understanding of the laws governing us and our universe is a great triumph."
Meanwhile, the master of the universe is fast becoming a master actor as well. In April 2012, the professor made another of his celebrated guest appearances on television, this time on the popular sitcom 'The Big Bang Theory'.
According to his co-star Simon Helberg, Stephen's comic timing is quite good. He displayed his comic genius once again in July when he held a party for time travellers but did not send out the invitations till after the party. The professor sat waiting for his guests to come complete with balloons and champagne but unfortunately no one turned up. In an interview to Ars Technica, a technology news and information website, Stephen said about his party "I have experimental evidence that time travel is not possible."
In July, Stephen, whose only vice is that he occasionally gambles, was in the news again, this time for a wager made 10 years ago on the Higgs particle or the 'God particle' as it is sometimes called. The Physicist had made a $100 bet against fellow scientist, Gordon Kane, that such a particle will never be found. But with news coming in July from scientists in Geneva that the elusive particle has almost been hunted down, he cheerfully conceded the bet. Stephen was pleased that the Higgs particle had been discovered and recommended Peter Higgs, the man who gave his name to the Higgs boson particle, for a Nobel Prize. In typical Hawking style he joked that the discovery had cost him $100!
A Man of Many Faces

So, finally what does one make of Stephen Hawking – the living legend? Has Cosmology become famous because of Stephen Hawking or does the cosmologist owe his fame to science? Difficult to answer but perhaps it's a bit of both. A fact which cannot be denied though is, that there is no other scientist quite as famous, as appealing, as interesting, as mysterious as Stephen W. Hawking. And how could it be any different? Courage, fortitude, perseverance, determination, humour and a dash of stubbornness…Stephen has them all.
The professor loves to teach science to people but there are many valuable lessons which can be learned from his life as well. The fact that he is alive is in itself worth a salute. It teaches us to live life in the present and make the most of our time on this earth. That is the motto by which Stephen lives his life to seek the greatest value of our action. The normalcy which he exudes is uncanny – a wheelchair bound man who cannot speak, write, walk or even eat on his own, is doing brilliantly in his field of work and is a father and grandfather as well.
Stephen Hawking makes us redefine our perceptions about courage. A soldier fighting at the battlefield or an activist fighting for social issues are indeed men of valour. But fighting the unknown every single day, not knowing whether this would be your last breath and yet being a brilliant scientist takes bravery of a different kind. Ever played dumb charades? Remember how difficult it gets to express what we want to say without the comfort of speaking out? Now imagine not being able to talk throughout your life, not even the use of your hands to express yourself. Imagine having only your cheek muscles to select for communicating, for selecting words from a whole dictionary on the computer. Imagine that it takes you a whole twenty minutes to reply to someone. Imagine the way Sir Hawking communicates….by sheer grit and determination. What's more, just think of the amount of perseverance that the man possesses to churn out book after book with only the aid of his cheek muscles!
The professor's quirky sense of humour is well-known. Not for him the character of a gruff and stuffy old gentleman. People who know him describe him as an incurable flirt and a party animal who loves to dance in his wheelchair.
Battling such a life threatening disease and yet not being melancholy and gloomy…now that's strange. Twice married, when asked what he thinks about the most throughout the day, bang comes the reply – women, who are in Stephen's eyes, a complete mystery. Indeed, the man is every bit as remarkable as his ground-breaking work. What better way to end this than with a quote of Mr. Hawking
"Remember to look up at the stars and not down at your feet…Try to make sense of what you see and about what makes the universe exist. Be curious. And however difficult life may seem, there is always something you can do, and succeed at. It matters that you don't just give up."
Brave words from a brave man…let's each of us try to live up to them.
---
Your email address will not be published. Required fields are marked.