Welcome
The most wonderful and precious element of universe is the human life which can only be guided by the right knowledge and right attitude. So, here is an ocean of knowledge, both in English and Hindi encompassing every detail and each facet of human life which 'one must know' in order to grow and attain the summits of success. A team of around 200 dedicated members is working ceaselessly to turn such a colossal dream into reality. We are confident that this portal will help bring change in people across the world.


Latest Update
Creating a Drug through Vampire Bats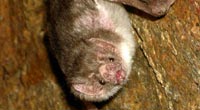 Today's Quote
If you aren't sure who you are, you might as well work on who you want to be.