Introduction
"We all have the right to our crazy dreams."
Envisage the blazing sun above, as you look through your sunglasses, at the endless highway. The shiny new cell phone is out of juice and the watch is hidden in the glove compartment. Not a single soul around, except you, the road and your mean machine. You turn on the ignition and the engine roars to life. Burning rubber you speed off towards your destination or perhaps your destiny. The radio is blaring old country music that you heard one sunny morning ages ago. The breeze gently caressing your face reminding you of that special someone. Sounds like a TV commercial or a dream?
We are all dreamers, and our dreams are our own world of perfection. Keeping it close to our heart, we silently wish they come true. Some live their dream, while some strive hard all their life to realize them. You ask me if dreaming is really that important. My answer is yes! Dreams give you hope, a purpose, a cause worth living. You may falter, but do not give them up so easily. Is it too much to ask for? No! because this life-story will reinstate your faith that your dreams can be achieved, no matter how far-fetched they are. Today you will learn about a dreamer, who envisioned the future of technological marvels. Chasing dreams became his religion. Achieving next to impossible turned into a lifelong habit. This individual never shied away from failure and embraced all the setbacks that came along the way. All because he was a dreamer, falling and rising on the rough path of success.
Soichiro Honda was a renowned visionary of the automobile industry. A man with limited means and magnificent talent who changed the way we drive today. This brief story highlights some of the interesting parts of his long and illustrious life.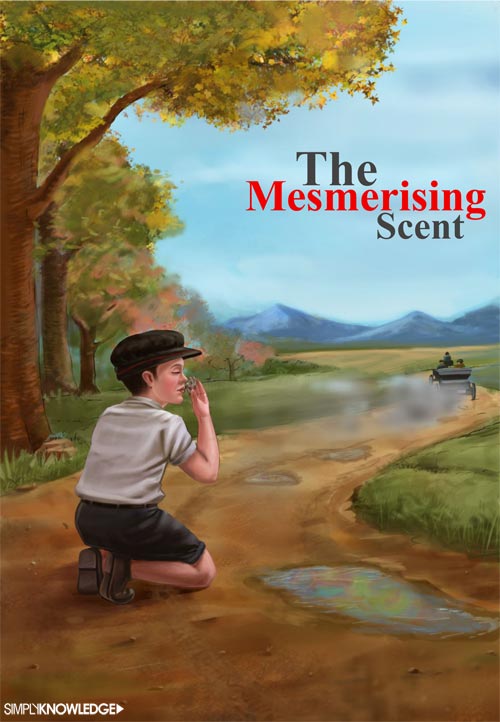 The Mesmerising Scent
"I will become the Napoleon of mechanics!"
In a small village of Komyo, in the Tenryu province of Mamamatsu, lived Geihi Honda - an honest, skilled blacksmith with his wife Mika - an accomplished weaver. Geihi ran a bicycle repair shop in the county. On November 17, 1906, Soichiro Honda opened his eyes in his mother's arms. Even though the family was poor, they brought up Soichiro in a happy environment albeit a little disciplined. His father's comprehensive education kept Soichiro's freewheeling and unrestrained personality in check. Like his father, Soichiro, as he grew up, imbibed love and passion to engage in mechanical projects. He got his manual dexterity from his father. He was averse to inconveniencing others and grew up respecting time and being punctual in all in his appointments. He was roughly 8 or 9 years of age when he saw an automobile zoom past him on a rough, dusty rural route. Soichiro found the car exhaust enchanting and the engine roar felt like music. He walked over the tiny puddle of gasoline, which the car left behind. Bending down on his knees, he dipped his fingers in the residue and whiffed. He felt mesmerised with the scent and since then the lad dreamed only about cars and engines. At Futamata Grade School, hours had never felt so long before as he waited for an eternity for the bell to ring. After school, Soichiro spent time in his father's bicycle workshop, entranced by the world of mechanics. Pedals, chains and wheels became his toys as he helped Geihi in repairing bicycles.
He was 16 when he saw an advertisement of Art Shokai Automobile workshop in Tokyo. The workshop was popular for it provided the finest repair services in the city. It wasn't a vacancy ad yet Soichiro wrote to the management for apprenticeship. He received a positive reply and within a week the dreamer left for Tokyo.
Soichiro Honda was fascinated seeing the urbanization of the country's capital. The first few months at the shop, Soichiro engaged in odd jobs like serving tea and cleaning floors. The seniors took him under their wings and observed his patience and commitment towards the company. He quickly learnt the nuances of automobile repairing and earned a reputation of being a prolific mechanic. His enthusiasm for hard work, improvisation skills and an intuitive understanding of mechanics stood him in good stead. It is here that he learnt to manufacture piston rings under the tutelage of his boss Yuzo Sakakibara. Soichiro not only learnt repairing work, but also how to deal with customers and the importance of taking pride in his technical competency and his work. It is said that he not only had theoretical knowledge but also had hands on expertise in tasks like forging and welding.
The young boy was living his dreams but it shattered on September 1, 1923. A great earthquake struck Japan, leaving behind the aftermath of destruction and death. More than 140,000 citizens lost their lives in the tragedy. While the senior employees left to re-build their homes and life, Soichiro stayed behind at the workshop. The tragedy turned into a blessing for this budding engineer who got an opportunity to repair motorcycles and cars of his customers. Soichiro was now an irreplaceable asset of Art Shokai Workshop. In 1928, the company expanded rapidly and the owners decided to open up branches in other cities. 22 year old Soichiro Honda was bestowed the responsibility of managing the Hamamatsu Branch. The new responsibilities gave him ample time to build race cars from old spare parts and car chassis. This also gave him the opportunity to explore his talent as an inventor. With ingenuity, Soichiro built a racing car from the ground up and powered it with an overhauled ford engine. The race car broke 100 mph barrier on the Japanese racing circuit. Soichiro would work without sleep for days to repair his speed machines. By now, the Hamamatsu branch had a staff of over 30 people. The same year saw his marriage to Sachi in October. She joined him in running the business by taking charge for the catering for the live-in staff and doing the accounts. Himself a racing enthusiast, Soichiro drove his own car until in 1936 a near fatal accident at the racetrack nearly ended his life and career in racing. He gave up racing at the behest of his wife and his father.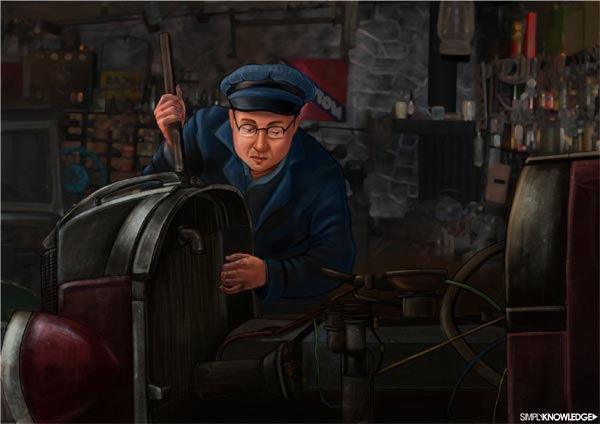 The Carefree Manufacturer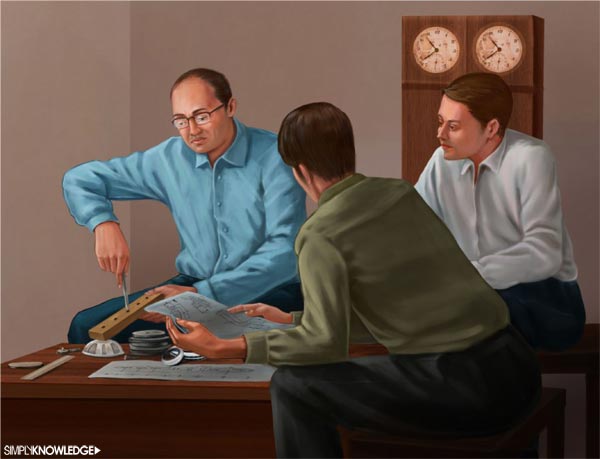 "There are… qualities which… lead to success. Courage, perseverance, the ability to dream and to persevere."
In 1937, Soichiro Honda, now 31, invested his life savings of $3200 in a piston ring manufacturing company called the Tokai Seiki Heavy Industry. His brief stint in a previous job came handy when he opened his plant in Hamamatsu. The company supplied piston rings to Toyota and later to the Imperial Japanese Army and Air force. Soichiro's first lesson in manufacturing came when his 3000 piston rings supplied to Toyota failed the quality control standards. Out of 3000 rings only 50 rings were considered by the company, it was a major dent in Soichiro's profit. But the carefree Soichiro Honda had learnt a valuable lesson in quality control and was back in business. This prompted him to enrol at the Hamamatsu Industrial Institute, and study metallurgy for two years. During the Sino-Japan war and later during World War II, the company's sales tripled. However, it was also a frustrating time for Honda who no longer could build race machines. Slowly the male staff at his company, which had almost risen to two thousand, dwindled as they were called off to fight the war. As a result the company was filled with inexperienced female staff. It was then that he realised the necessity of automating production. The unfortunate attack on Pearl Harbour brought war to Japanese shores. In retaliation Allied air force bombed Hamamatsu Air-Base. In the air raid, Honda's manufacturing plant was partially destroyed. He re-built his plant and restored the assembly line. However, in 1945 another earthquake shook Hamamatsu, and this time luck was not on his side. The plant was destroyed beyond his financial capacity. No longer keen to rebuild his company, Soichiro Honda sold it to Toyota motors and went on a yearlong sabbatical. He enrolled himself in Hamamatsu Technical College and learned automobile engineering but didn't appear for the final exams. Soichiro Honda was an engineer without a degree.
Post World War II, Japan was devastated. Public and private transportation was heavily affected. The country summed up courage to recover its pre-war glory. Manufactures in all sectors religiously produced high quality products at affordable prices. However, the Automobile industry was still in a dilemma and struggled to manufacture a vehicle that could move the nation toward prosperity. Soichiro wore his thinking cap and established the Honda Technical Research Institute in October 1946. Soichiro procured tiny 2 stroke radio engines from the Army and refitted them on bicycles. This cheap motorized vehicle became an instant hit among the masses who couldn't afford a high cost automobile. In 1948, he established his motorcycle manufacturing plant. Further research and development led to production of model Type-A. However, the competition was stiff as Honda was one of 200 manufacturers of motorized vehicles in the country. Soichiro's ingenuity and word of mouth made Type-A, a hit among the masses. When "The Dream Type-D" model hit the market, it changed the Japanese two wheeler industry forever. This was his second lesson in manufacturing – 'good products need good marketing strategy'. The name, Dream, was suggested by close friends as Soichiro Honda always dreamed of making elegant yet powerful machines. Sadly, the company finances were in a state of shambles. Soichiro was a great engineer but a terrible businessman who couldn't control his expenses or curb its losses. The company was losing money rapidly, jeopardizing Soichiro Honda's dreams. At this juncture destiny dealt its hand, and Tekeao Fujisawa, an ace mechanic showed up at his doorstep.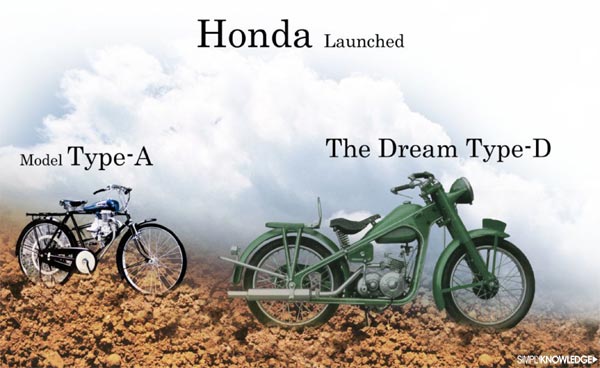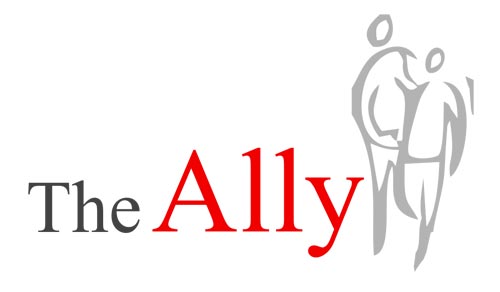 The Ally
"It would be hard for an engineer like myself to enjoy accounting…"
It was the year 1950, when Fujisawa met the 44 year old Soichiro – the maverick manufacturer, at his motorcycle plant. These gentlemen shared the same passion for automobiles and spoke for hours. By the end of the day Fujisawa walked out with a job in his hand, though without any formal contract. Fujisawa controlled the business operations for the company while Soichiro Honda spent his entire time in research and development. At the manufacturing plant, high standards of quality was ensured in every section. Manufacturing superior engines became Honda's topmost priority and as a result Type-E was launched. The motorcycle featured a 4-stroke engine and generated 5.5 horsepower. Fujisawa's business acumen led to the production of a light motorized 50cc vehicle - Type Cub. This low-end model won hearts and ended the woes of thousands of Japanese who couldn't afford a car. The rising company established new factories and R&D labs to meet the growing demands. Honda Motors secured its finances by issuing an Initial Public Offering in 1955. The company stocks were traded on Tokyo stock exchange. By the end of 1956, Honda Motors was the leading motorcycle manufacturer in Japan. In this process, Soichiro Honda and his close friend Fujisawa made a personal fortune worth millions. The company's motto was based on the 3 joy philosophy of Soichiro Honda
Joy of Manufacturing: Only an engineer and manufacturer can define.
Joy of Selling: Which company's promoters and sales team receive when selling a high quality product.
Joy of Buying: The biggest reward of Soichiro when a customer is satisfied with the product.
The late Korean War in the 50's skyrocketed Honda sales as American Troops relied heavily on Japanese automobiles for its logistics operations. Even the country's shipping and steel industry benefited from the ongoing war. The pristine quality, robust engines and low maintenance made Honda the most preferred logistic partner for the American military. Fujisawa saw an opportunity for growth and designed a successful high production system for the company. Honda Motors accounting books never seemed so healthy before. In spite of all the successes, 52 year old Soichiro Honda was still a boy at heart, who never shied away from getting his hands dirty. Honda motorcycles had played a significant role in the country's development.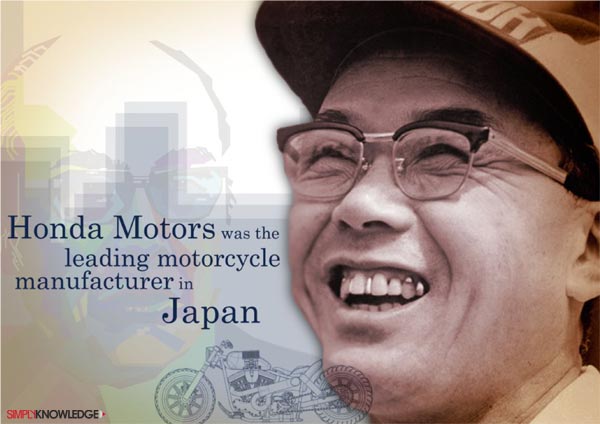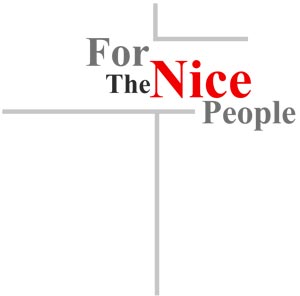 For The Nice People
"If you make a superior product, people will buy it. "
In 1959, Honda Motors entered the US motorcycle industry dominated by heavy motorbikes like Harley Davidson and Indian. The company established itself in Los Angeles but it couldn't stir the market nor could attract customers. The perception of the average American was that only outlaws and cops rode motorbikes. Honda strived to change its target audience perception. To reach its potential customers Honda adopted a unique marketing strategy. They displayed their motorbikes at hardware stores, sports equipment shops and even supermarkets. When Super Cub was launched in America, it changed the way that young America commuted. In its first year, the American Honda unit managed to sell 15,000 units, which was remarkable for a foreign company. However, Soichiro had ambitious plans; he wanted to sell 15,000 units a month. As always, Honda's man Friday Fujisawa stepped in to sell company's product in an unconventional Japanese style. The company's sales team drove in Honda trucks loading its bike from city to city. They sold their unit to dealers exclusively in person. The unique distribution method worked for the company and the sales picked up. Its 1958 Super Cub was redesigned for the US market. The clean and attractive motorbike was considered one of the best. The light weight frame, easy handling, low maintenance cost and simple step through design made it popular among women too. The American version of Super Cub came in 50 cc engine generating 4.5 hp and was the most fuel efficient motorbike in the country.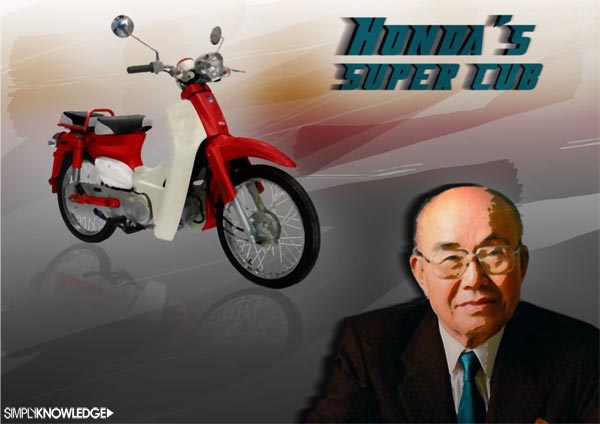 Chasing The Checkered Flag
"My biggest thrill is when I plan something and it fails.
My mind is then filled with ideas on how I can improve it."
The Honda Motor Company had penetrated deep inside the American motorcycle industry. But Soichiro ached for more. He one day visited his R&D facility and shocked his team by announcing that they will enter the world of motorcycle racing. His passion and need for speed had resurfaced. The Honda racing team participated in the Isle of Man Race in 1959 and challenged its rivals openly. What seemed to be an audacious move was in fact a strategic move to push the company's technological boundaries. The technology developed in the racing world was later incorporated in their motorcycles built for consumers. It was a frustrating start in Isle of Man racing contest as the team constantly battled breakdown of engines and other technical glitches. However, Soichiro Honda saw it as a learning curve and kept the moral of his team high to achieve victory. Team Honda's moment of success came in 1961 when his team won the first 5 positions in each 125 cc and 250 cc category.
Riding high on the success of motorcycle racing Soichiro Honda wanted to explore foreign markets. In 1964, American Honda sponsored the Academy Awards and the Super Bowl. It instantly earned eyeballs, which converted into 100,000 sales in a month. The company's advertising campaign "You meet the nicest people on Honda" created an overwhelming demand from the consumers. The campaign was the true reflection of Soichiro Honda. The 60 second commercial featured a young mother dropping her child at school on her Honda and driving to a nearby shop. Aesthetically shot, this black and white commercial featured people from different walks of life riding Honda motorbikes. The later coloured commercials featured young boys and girls on their Honda to attract the young Americans.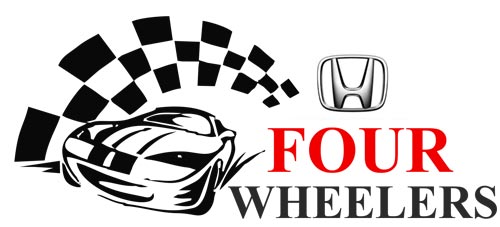 Four Wheelers
"The day I stop dreaming is the day I die."
The maverick had conquered the global motorcycle market but he wanted to face bigger challenges. Soichiro once again shook his researchers by announcing that the company will enter the car-manufacturing business. It was a practical move as the company had all the resources and technical expertise to meet the challenge. But it headed to a roadblock as Japans Trade and Commerce Industry didn't issue a license to new automobile manufacturing units. It was a major setback for Soichiro Honda who was passionate about cars. To make the policy makers eat dust, Soichiro stepped into formula one racing. The idea was to build cars faster, cheaper and yet maintain international quality. The advancement of formula one car racing helped the company rapidly innovate in the technological department, which it later incorporated into its consumer models. Team Honda's first year in 1964 formula-one season was full of destruction and failure. Once again, the maverick CEO backed his team of engineers. The subsequent year showed a minuscule promise but largely it was a failed attempt. Soichiro Honda worried whether his success was limited only to motorbikes.
Then came Honda's moment of joy when the team won the Mexican Grand Prix. In 1967, the Honda team took the pole position in Italian Grand Prix. The team was much better in Formula Two circuits with 11 straight victories. The company advanced its technology through Motorsports. Soichiro Honda lobbied in the ministry and acquired permission to build a small number of cars. He got involved in the company's research and designing process. His European tour was an eye opener for the genius when he came across compact FIAT cars. These cars were smaller, easy to manoeuvre in traffic, burned less fuel and required a smaller space for parking. Taking inspiration from his European counterparts, the engineers built Honda Civic. The car was powered by an innovative Compound Vortex Controlled Combustion engine, which emitted less carbon dioxide and pollutants. Honda Civic passed the strict environmental laws of the United States with flying colours, earning the ire of American manufacturers. Sales of Honda Civic flew off the charts, becoming number one in USA. The company decided to set up its plant at Marysville, Ohio in 1973. The Accord was added in 1982. The same year saw the launch of the Accura brand with the addition of the Integra and the Legend. The Accura NSX was Japan's first Supercar.
On the 25th Anniversary of Honda Motors, Soichiro Honda and Fujisawa retired from the company. The genius left the company in the hands of the young generation at the prime of the company's technological and infrastructure strength.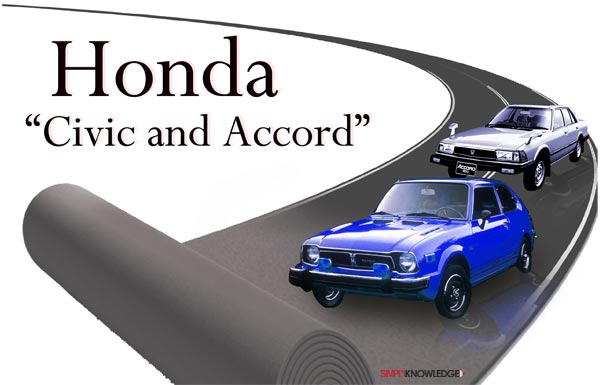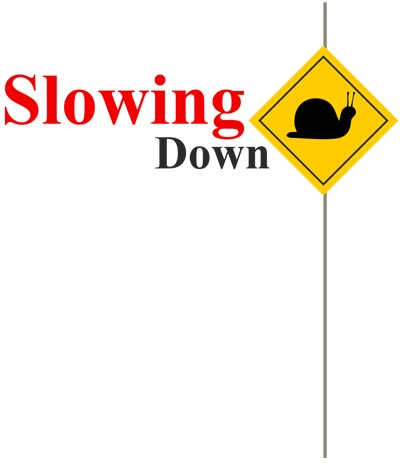 Slowing Down
"You don't measure a man's greatness by his physical size,
but by his acts, by the impact he makes on human history."
Once a tinkerer always a tinkerer. The maverick grease monkey spent hours in his private garage, repairing and taking apart engines. Soichiro Honda on invitation from the British museum repaired an antique car and raced it from London to Brighton. The 66-year-old Soichiro Honda spent his retirement days as a Japanese ambassador of goodwill. He met many prominent personalities building bridges between the east and the west. He loved his sake and spent the afternoon in his front yard creating traditional Japanese paintings. He welcomed the move of manufacturing cars in America in 1974 and selling it worldwide. He remained on Honda's board and often visited company research labs to keep abreast of latest technology. Soichiro Honda jubilantly admitted that the company's new technology was intriguing but he couldn't understand them. Soichiro Honda was inducted into the American Automobile Hall of Fame in 1983. The tinkerer breathed his last on 5th August, 1991, due to liver failure. The dreamer left behind his values, ideas and spirit in the form of the Honda Motor Company.
Today Honda is not only developing fast cars and motorbikes but is involved in robotics, aviation, multi-utility engines and racing machines. The vision of Soichiro Honda is transfused in the young generation of managers, researchers and engineers. The company gave industry many innovations like the Disc Brake, Step Through design and even the first Air Bag system in motorcycle! Yes, you read it right.
The company's motto "The Power of Dreams" prominently defines the achievement of a rural boy who was enchanted by the aroma of gasoline. With his scarred hands Soichiro Honda wrote his destiny. The future is excitingly fast and secured. We are heading towards breathtaking innovations and the world of endless engineering possibilities. Today when you roll out your car or motorcycle for a spin, leave your worries and scepticism behind. Think over the endless possibilities and the power of your dream. There will be speed breakers of temporary disappointments and setbacks. Your job is to ride along until you reach your destination or destiny.