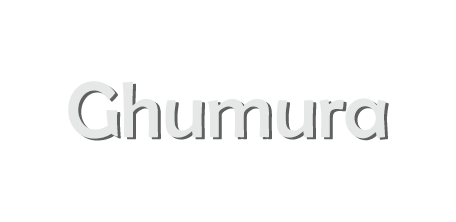 The Indian state of Odisha enthrals with various forms of folk dance and music rooted in tribal ancestry. The Kalahandi district of Odisha literally means a 'pot of arts'. As many as seven forms of captivating tribal dances mesmerize the senses. Ghumura is a fine example of classic as well as the folkdance form. Ghumura means 'a pitcher of soil or clay', which is used as an important prop of this very popular dance form. It is performed during festivals and various utsavs or organized events. An ancient war dance, today it promotes unity and brotherhood amongst the different participating communities. Distinguished by its tribal costume and accessories and marked by classical mudras or poses, Ghumura encompasses an intangible cultural heritage of India.
How did Ghumura originate?
Ghumura dance has both mythological as well as historical beginnings. In his composition Ghumura Janma Bidhan written in 1954, the poet Kandarpa Panda mentions that Ghumura is a type of drum. It was a combination of Lord Shiva's 'damaru' and Goddess Sarawati's 'veena'. This Ghumura was used by Maa Durga to kill the demon Mahishasura. It was also used as a musical instrument by the Gods and the Goddesses in the two epics of Mahabharata and Ramayana. Paintings in the caves of Kalahandi and engravings on the walls of the Sun temple of Konark prove the historical origins of Ghumura dance and its various forms. It is a belief that the first performance of the Ghumura dance took place on the banks of the river Indravati and from there it had spread to the neighbouring villages.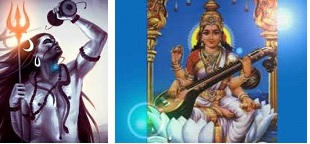 How is it performed?
Ghumura dance is a heroic dance performed to the tune of composed songs along with the constant beats of the Ghumura. Performed mostly by men, it was developed as a type of war music of the Gods. Ghumura was a 'darbari' or a courtly war dance of the princely state of Kalahandi and is performed during war times. The song and the dance were meant to boost the spirit of the warriors during the pre–independence period. Today, in modern times, the Ghumura is a means of entertainment, love and devotion for the dance as an art, a source of relaxation for the mind and promotion of brotherhood. It is also performed during the festival of Nuakhai and Dassahara.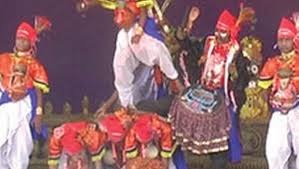 Which musical instruments are used to perform this dance?
Dancers attach the Ghumura to their chests and beat it while dancing. Hence, Ghumura is the musical instrument important for the performance and the sound. Nishan, Dhol, Taal and Madal are the other traditional musical instruments used.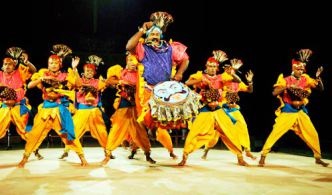 Is there a costume peculiar to this dance?
Costume worn by the artists while performing the Ghumura resembles that of the tribal folklore. It consists of a colourful dhoti or a wrap around the waist, a head dress adorned with motifs and a colourful shirt. In addition, the artists have a Ghumura hanging from their neck.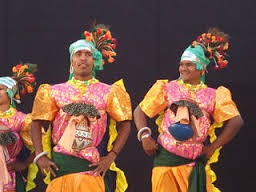 Add/View Comment